While debate continues over how proposed changes to the UK's tax regime will impact North Sea oil and gas production, exploration activity declined in the first quarter of this year and weakness in oil output for the UK North Sea is expected to continue.

Nine exploratory and appraisal wells were drilled on the UK Continental Shelf (UKCS) during this year's first quarter, a 25 percent decline from the same period in 2010 and the previous quarter, according to a report by Deloitte's Petroleum Services Group. Five of those wells have been started in the Central North Sea; two in the Southern North Sea; one in the Northern North Sea, and one on the Faroe-Shetland Escarpment.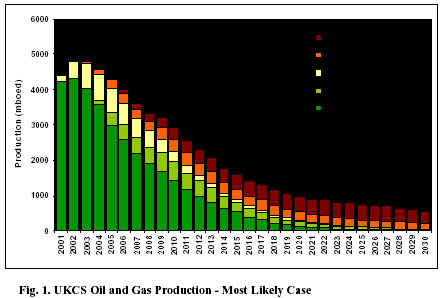 Prior to the announcement of tax increases by the UK government, Deloitte said that, despite the decrease in drilling activity, industry outlook for UK drilling had initially appeared positive this year as the average Brent Blend oil price continued to rise. Deloitte noted that there were indications that increased Brent prices and tax incentives were encouraging companies to return to pre-recession strategies.

However, the announcement of tax increases has had a negative effect on industry optimism and a number of companies have already announced that they intend to put appraisal and development projects on hold. "At present, it is unclear how these factors will affect levels of drilling activity over the coming months," Deloitte said in the report.

Deloitte reported seeing more farm-in activity than asset acquisitions in the first quarter, noting that farm-in activity for this quarter was higher than fourth quarter 2010. The uptick in farm-in activity could be indicative of companies beginning to return to corporate strategies that were in place pre-recession. The increase in farm-ins could also be attributed to the continued rise in oil prices, which may provide incentive for companies to increase their equalities in reserves.

UK Oil Production Weakness Last month, Barclays Capital reported that it anticipated weakness in UK total oil liquids output to continue as no major field start-ups to boost output are in sight.

UK total oil liquids output averaged 1.3 million b/d in December, a year over year decline of 128,000 b/d, with production falling by 111,000 b/d across 2010 as a whole. The decline is a step up from the declines in 2008 and 2009, when output declined by 106,000 b/d and 73,000 b/d, respectively.


Barclays expects output to fall by .15 million b/d this year, and it's fair to say that the UK Treasury's proposed tax hike on UK North Sea oil and gas production will hurt UK oil production, said Amrita Sen, oil analyst for Barclays. "Because it's a mature basin, production costs in general are already higher, so if you add additional costs, it will be difficult to incentivize research and development efforts for technology in this area."

The tax increase announcement has already prompted Norway-based Statoil to put plans on hold to develop two heavy oil fields in the UK North Sea in light of the proposed tax hike. This delay and other possible delays mean ongoing weakness in UK oil output will continue.

Sen estimates that an additional 100,000 b/d of oil is needed to maintain current UK oil production, and that an additional 200,000 b/d of oil is needed to maintain existing Norwegian oil production, which is experiencing even steeper declines than UK oil production.

New Production Coming Online Weakness in oil output is expected to continue; however, new oil and gas production is expected to come online within the next year. Endeavour International Corporation expects oil production from its Bacchus development on UK Block 22/6a in the Central North Sea to begin during the second half of this year, and gas production from its Columbus development on UK Block 23/16f to begin in 2012.


In late February, the UK Department of Energy and Climate Change (DECC) approved Endeavour's Rochelle Field Development Plan (FDP) for Block 15/27 in the Central North Sea, now known as East Rochelle. The current FDP calls for the subsea development to be linked by a 18.6-mile pipeline to production facilities on the Scott Platform. First production is planned for the second half of 2012. West Rochelle, which was successfully appraised in October 2010, will be integrated into this development plan as the second phase.

DECC also has approved RWE Dea's field development plan for the Clipper South gas field in the UK North Sea. The field will be developed by five horizontal wells, each containing up to six hydraulic fractures, connecting to a wellhead platform and then piped to the LOGGS PR platform. First gas is expected in the first quarter of 2012, with production is anticipated to reach a maximum rate of 100 MMcf/d.

O&G Employment Outlook for UK Salaries in the UK oil and gas industry through 2010 were some 50% lower than those in other oil and gas regions, such as the U.S. or Norway, as the UK oil and gas industry was dragged down by the recession experienced by the overall UK economy. While these are now rising, they are still lagging some way behind their counterparts. "Consequently, many international companies are targeting the UK as a location in which they can recruit highly skilled talent at relatively low costs," said Matt Underhill, managing director for oil and gas at Hays Recruiting.

"The one positive sign in the market regards salaries is that day rates for contractors have shown some excellent growth and this is usually a pre-cursor to staff salaries following suit," Underhill noted.
Related Article: UK Energy Report